We are really digging this blog....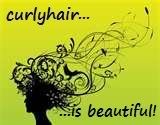 this is what CURLY HAIR IS BEAUTIFUL has to say:
"Curly/biracial hair can be challenging and sometimes overwhelming. Once you
learn to properly care for your hair and learn a few ways to style it, you will
start to have fun with it and grow to love your beautiful curly hair. No matter
what your race or hair type is, Curly Hair Is Beautiful, and we hope to
show you that here. I taught myself most of what I know about
curly/biracial hair through research and lots of practice- and so can you.
Please follow our blog and join us on our hair adventure! "
Check it out!! Here